Engage in hands-on, innovative research: BUILD EXITO now recruiting UAA students
UAA Green & Gold News
January 12, 2017
BUILD EXITO is looking for curious, passionate and committed undergraduates who want to make a difference in the world by engaging in research careers. EXITO takes students who have three years left to degree completion and prepares them for success in graduate school and beyond.
Past News & Events
UAA a partner in NIH-funded Building Infrastructure Leading to Diversity (BUILD) collaborative
PRESS RELEASE
Oct. 23, 2014
The National Institutes of Heath (NIH) announced this week the award of nearly $31 million in fiscal year 2014 funds to develop new approaches that engage researchers, including those from backgrounds underrepresented in biomedical sciences, and prepare them to thrive in the NIH-funded workforce. The University of Alaska Anchorage is one of 50 institutions that will receive funding under this initiative, and will be part of a national consortium to develop, implement and evaluate approaches to encourage individuals to start and stay in biomedical research careers. These awards are part of a projected five-year program. For more information, visit the NIH web site.
Webinar: Pursuing a Career in Health Disparities Research: A Community-based Participatory Research (CBPR) Approach
Please join us for a one hour webinar to learn more about pursuing a career in health
disparities research.
June 10, 2014 (3-4 pm PDT)
To register, contact Heidi Harbach at hharbach@fhcrc.org
For more information, download a flyer (pdf)
2014 Summer Camps for Teens & Adults
Get ready for a fun and educational experience at Alaska's Only Tribal College!
To learn about the variety of camps available, download a flyer (pdf)
907.852.1772 or 1.800.478.7337 ext. 1772
recruitment@ilisagvik.edu
2014 ANSEP Celebration & Extravaganza
Building a Sustainable Future
With special guest Astronaut Jim Lovell
January 31, 2014
Reception 5:30 PM / Doors open 6 PM
Download flyer (pdf)
Free on-line, self-paced course available!
Public Health Training: Measuring Health Disparities
This interactive course focuses on some basic issues for public health practice: how to understand, define and measure health disparity. This course examines the language of health disparity to come to some common understanding of what that term means, explains key measures of health disparity and shows how to calculate them.
Credit Certificate of Completion; Nursing contact hours and CHES available
Instructors: John W. Lynch, Ph.D., M.P.H., M.Ed. Sam Harper, Ph.D.
For more information, visit the University of Michigan Public Health Training web page.
Six UAA Faculty Participate in Summer Institute on Health Disparities
In May 2012, six UAA faculty members participated in a five-day summer institute on health disparities. The faculty members represented the following university departments: Alaska Native Studies, Teaching and Learning, Journalism and Public Communications, Health Sciences, and Philosophy. In return for a stipend faculty members agreed to:
Integrate content on health disparities into a course being taught the next academic year
Evaluate how the new content on health disparities impacted student learning
Present the highlights of the experience at a public event
The institute featured four national experts on health disparities:
Susan Bagby, MD, Oregon Health & Science University
Lisa Bates, SM, ScD, Columbia University
Theresa Osypuk, SD SM, Northeastern University
Leslie Hausmann, Ph.D., University of Pittsburgh
Local experts included:
Rhonda Johnson, DrPH., UAA Department of Health Sciences
Gabriel Garcia, Ph.D., UAA Department of Health Sciences
Cathy Sullivan, M.S., UAA School of Nursing
Mark Erickson, MD, SouthCentral Foundation
Ellen Provost, DO, MPH, Alaska Native Tribal Health Consortium
Deb Periman, JD, UAA Justice Center
Randy Magen, Ph.D., UAA School of Social Work
Mutale Bingley, MSW, Bev Harper, MSW, Chrystal VanSky, MSW, UAA Social Work Graduate Students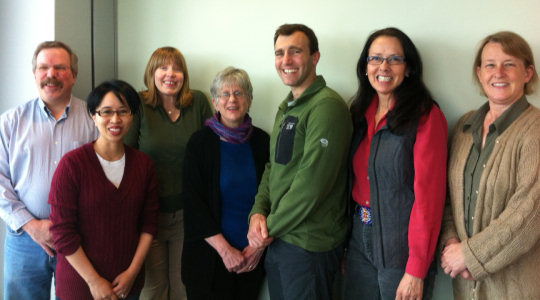 Randy Magen, Summer Institute Coordinator, and the six faculty fellows: (l-r) Joy Mapaye, "Sunny"Mall, Jenny Miller, John Mouracade, Diane Benson, and Nancy Nix
2012 Science of Eliminating Health Disparities Summit
October 31 – November 2, 2012
Gaylord Hotel and Convention Center
National Harbor, MD
The 2012 Science of Eliminating Health Disparities Summit promises to be a stimulating learning experience, and a chance to develop new partnerships with others committed to the quest to eliminate health disparities. It will bring together national and international leaders in the field of health disparities representing multiple disciplines and sectors to share cutting-edge science, policy, practice, and various results-oriented approaches to address health disparities. Come and learn about the progress that communities across the United States and around the world are making to improve the health of underserved populations, the challenges they face, and opportunities to foster collaborative alliances to build a healthier global society.
Sessions are now open for registration: http://www.nimhd.nih.gov/summit_site/programAgenda.html
Summer Faculty Fellows Institute: Call for Applications
Deadline: April 1, 2012
Participate in a 5-day institute at UAA May 7-11, 2012
Download the Summer Institute flyer (pdf)
SPHSP Summer Program for Underrepresented Minority Students Interested in Public Health & Biomedical Science Careers
The Summer Public Health Scholars Program (SPHSP) is offering a ten week summer program that begins May 28, 2012 and ends August 3, 2012. SPHSP is designed for undergraduate students to increase interest and knowledge of public health and biomedical science careers. For more information, visit the SPHSP web site. Download a flyer and fact sheet.
Robert Wood Johnson Foundation Grants Aim to Help Shape Difficult Public Health Funding and Service Decisions
Published: Feb 17, 2012
A series of new public health services and systems research (PHSSR) projects funded by the Robert Wood Johnson Foundation (RWJF) will provide timely insights into the best strategies and practices to enable state and local health departments to be the most effective and efficient in keeping people healthy and safe.
New Public Health Practice-Based Research Studies to Look at How to Reduce Health Disparities
Published: Feb 17, 2012
The Robert Wood Johnson Foundation's Public Health Practice-Based Research Networks (PBRNs) are launching a series of new studies focusing on how to reduce health disparities, while strengthening techniques used to compare the delivery of public health services.
Helping Health Departments Make Smart Decisions with Limited Resources: Q&A with Douglas Scutchfield
Published: Feb 16, 2012
Public Health Internships for Undergraduates Interested in Eliminating Health Disparities
Application deadline is February 10, 2012
The University of Michigan Future Public Health Leaders Program offers the following internships:
1) Health Behavior Health Education (HBHE) is concerned with the factors associated with health-related behavior and health status, and develops and evaluates innovative strategies to address and improve individual and community health.
2) Environmental Health Sciences (EHS) are concerned with the impact of environmental conditions on human health -- in particular the health effects in people that can arise from exposures to agents (chemical, biological, physical, or even behavior) through the air they breathe, the water they drink, the food they eat, and the manner in which they go about their lives and their work.
Library Resources for Health Disparity Research
Presented by Ms. Sally Bremner, Health Sciences Librarian
December 1, 2011
This one hour seminar, co-sponsored by CAHDRE and the UAA Department of Health Sciences, presents useful library tools and search strategies to use for researching health disparities. Handouts are available on the library website.
Summer Seminar in Health Disparities
July 14, 2011
Download the seminar agenda (pdf)
2nd Translational Health Disparities Course
June 20 - July 1, 2011
Location: NIH Campus in Bethesda, MD
More information: http://www.nimhd.nih.gov/hdss/NIMHD_thdc.html
The NIMHD presents this two-week intensive course that brings together scholars from around the world and provides participants with specialized instruction on the concepts, principles, methods, and applications of health disparities science, practice, and policy.
Today's Topics In Health Disparities - HHS' Action Plan to Reduce Health Disparities
Watch the podcast!
On Monday, April 25, 2011 Today's Topics in Health Disparities webcast examined the new Department of Health and Human Services' Action Plan to Reduce Racial and Ethnic Health Disparities.
CDC Report Documents Important Health Disparities, Need for Better Data
Press Release, January 13, 2011
This report highlights the progress and challenges in achieving health equity.
NCMHD Translational Health Disparities Course: Integrating Principles of Science, Practice and Policy in Health Disparities Research
When: September 20 - October 1, 2010
Where: Natcher Conference Center, National Institutes of Health, Bethesda, MD
Cost: No registration fee
Deadline for applying: 11:59 p.m. EST on Friday, July 30, 2010
NCMHD launches a two-week health disparities course which provides intensive specialized instruction on the concepts, principles, methods, and applications of health disparities science, practice and policy. This course is open to healthcare professionals, social science professionals, representatives of community-based organizations and federal government employees involved in health disparities research or community-based participatory research activities. For more information, download the course flyer (doc).