Key Personnel - Jan Harris, MSHA, FACHE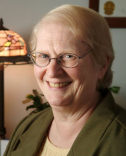 Jan Harris is the Co-Director of the Administrative Core. She is an experienced health care executive and quality improvement professional who has lived and worked in rural Alaska throughout much of her career. Her educational background includes a B.S. in Nursing from Cornell University, an M.A. in Liberal Studies (sociology) from Dartmouth College, and an M.S. in Healthcare Administration from the University of Colorado. She is currently a candidate for a doctorate in Health Administration from Central Michigan University.
At the University of Alaska Anchorage, Jan serves as the Vice Provost for Health Programs and directs the Office of Health Programs Development. Previously she was Associate Dean for the College of Health and Social Welfare. Jan represents the University of Alaska on the Health Steering Committee of the Denali Commission, the Alaska eHealth Network Board of Directors, the Alaska State Hospital and Nursing Home Association Board of Directors, and serves on the Pathways Into Health Governing Board.
Jan is a Fellow of the American College of Healthcare Executives and served for many years as an officer, board member, and administrator of the organization's Alaska Chapter. In 2005, she received the ACHE Senior-Level Healthcare Executive Regent's Award for her contributions to the Chapter and to health workforce development in the state, and in 2008 an ACHE Service Award. A member of the Alaska Public Health Association, Jan received the Alaska Meritorious Health Service Award in 2009.
Co-Director, Administrative Core (UAA)
Phone: 907-786-4595
Email: anjch1@uaa.alaska.edu